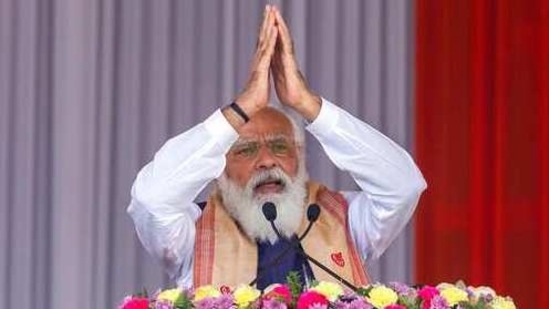 Prime Minister Narendra Modi visited the ancestral house of legendary freedom fighter Netaji Subhas Chandra Bose in south Kolkata on the latter's 125th birth anniversary on Saturday. Senior Bharatiya Janata Party leaders waited outside on the request of Netaji's family members.
PM Modi was escorted inside Netaji Bhawan by Netaji's grandnephews Sugata Bose and Sumantra Bose.
"I had requested the Prime Minister's Office that PM Modi should visit as the Prime Minister of India as it was the question of Netaji's honour on his birthday. Our request was considered and we made arrangements inside the Bhawan accordingly. Everything was done in a dignified manner," said Sugata Bose, chairman of the Netaji Research Bureau and a former Trinamool Congress MP.
The Prime Minister was taken on a short tour of the museum inside the house and was shown the black German Wanderer sedan that Netaji Subhas Chandra Bose rode for his great escape in January 16, 1941. He also saw Netaji's bedroom, his study room and the room of Sarat Chandra Bose, Netaji's elder brother.